The Brand Domains
The dot brands are coming...
Beginning at the end of 2013, in a process that will take several years, up to 1400 new domain extensions are going to be launched.
Somewhere around 680 of these will be brand domains, a new class of domain names which will be launched by many of the world's most famous and formidable corporations. A comparable number of new generic domain strings (such as .app, .cloud and .shop) and less than 100 new city domains (like .paris) will also participate in this revolution.
The new dot brands will alter the strategic landscape of the internet. The scenario is unprecedented — major companies like Apple, General Electric, Google, Philips and Toyota will launch their own "private internets" with a shift in focus away from the traditional dot com identity. These corporations have very big budgets to meet their aims.
The scale of the impact is unknown.
Their customer bases number in the billions.
We will see domains like Cars.toyota and Music.apple.
Many of the applications — as can be seen at left — reveal significant marketing efforts will be used to launch these new TLDs (top level domains).
A great deal is revealed in the collective applications for brand domains by these powerful corporations and a large number are analysed on this site.
Given their resources and sheer market power, the impact on the internet will be significant.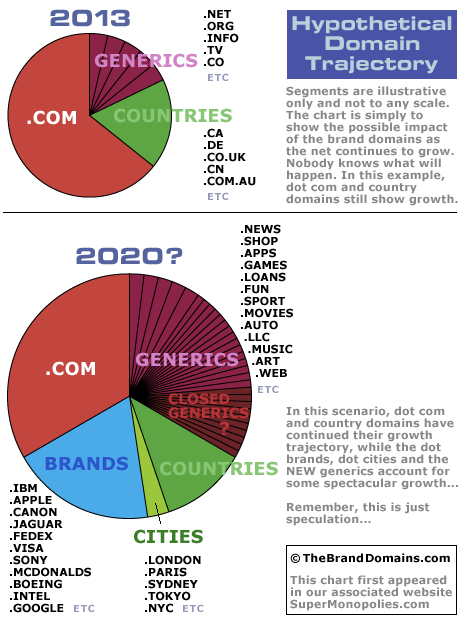 The Schedule
At time of writing (Sep 13) a rollout schedule had not been defined, though DomainIncite has reported the first contract signing which brings the launch phase closer. The application is for the Korean language version of Samsung's brand name.

Samsung has become the first company to sign a Registry Agreement for a dot-brand gTLD...

...(it could be) the first-ever dot-brand TLD to go live on the internet, which is likely to benefit from substantial media coverage compared to subsequent delegations.

DomainIncite. Samsung signs the first dot-brand gTLD contract.
Impact And Influence
Domains like iPhone.apple, Appliance.gecompany, Maps.google, Sound.philips and Acura.honda may become major web destinations in their own right.
The collective reach and influence of the 680 applicants for dot brand TLDs cannot be overstated, for example:

FOX International Channels develops, produces and distributes over 350 pay-TV channels in 35 languages across Latin America, Europe, Asia, the Middle East and Africa, reaching over 1.1 billion viewing subscribers worldwide.

Fox. Application for the .fox string.
The 680 corporations will have an incredible opportunity to leverage their customer databases to promote their new, private destinations even before they commence a big marketing spend.
Collectively, they will be able to exploit the first mover advantage of possessing the prestige and authority of a dot brand with many competitors excluded from the space.
The Next Level
Brand + Product
The brand domains present a unique opportunity for companies to cut through and create a new online identity marked by originality and impact.
Barclays Bank expresses one major advantage like this:

The promotion of .barclays-based websites will also provide an efficient marketing model that encompasses both brand and product. This is a far more efficient marketing approach than that currently employed – usage of existing TLDs and ccTLDs which are neither product or brand-related.

Barclays. Application for the .barclays string.
NOTE: cc = country code
A domain like Bank.barclays achieves the "holy grail" of including both brand and product in a single domain.
Neither of the following domains achieves this concise synergy, though each has certain advantages:
Barclays.com
Bank.com
(Of course, the formidable and residual power of the dot "COM" extension is immense.)

Authenticity And Trust
The brand domains will possess a decisive advantage over traditional dot com and other generic TLDs. The sole ownership of a closed registry confers on the owner the power to totally regulate each and every domain — to great advantage. All malicious, deceptive and criminal behavior can be entirely eliminated from the string.
Consumers will quickly learn that websites like Auto.honda, Perfume.chanel and Fashion.macys are 100% trustworthy. No more cybercrime.

Macy's proposed use for .macys should, by its very nature, preclude abusive registrations from occurring, as all domains names may only be registered in the name of Macy's and its affiliates...

Macys. Application for the .macys extension.
The End Of Junk Websites
A second decisive advantage the dot brands will exercise is the ability to eliminate boring, irrelevant, erroneous and misleading websites. There will be no sites full of junk designed to trick search engines and harvest traffic. There will be no time-wasting "parked" domains full of boring advertising.
When you go to Auto.honda, you will get the best possible official content about Honda automobiles. Guaranteed. If you go to Fashion.macys, you will find the latest styles in a beautiful presentation. Guaranteed.
Consumers will love being able to find the content they want in seconds.
Cautious And Measured Rollout
The rollout of the new domain brands may commence in late 2013.
A common factor of many if not most of the brand domain applicants is that they will proceed cautiously while simultaneously monitoring various market and business indicators. They will observe the evolution of the internet and the level of public acceptance of the new TLD program. In particular they will examine the early impact of the brand domains.
The corporations are sure to be flexible in their responses and initiatives.
And they have the budgets and the marketing masters to make things happen.
As an example, Intel's tentative plan is to start by redirecting .intel domains to existing traditional websites. After thorough evaluation and traffic measurement etc, it may transform select brand TLDs into primary addresses. Only then, and if the program meets the company's broad strategic goals, will a broader initiative commence.
Then, we may see sites like Solutions.intel and SemiConductors.intel go live.

This phased rollout will likely take place over a multi-year period, but is subject to change depending upon a range of external factors.

During this same period of time, Intel will evaluate potential strategies to migrate all traffic away from the current network of second-level domains registered in various gTLDs to the .INTEL gTLD. This will provide customers with a single, trusted online source for all Intel products and services.

Intel. Application for the .intel extension.
Possible Road Block
A possible impediment to the effective rollout of the brand domains is the two to three year launch period. Launching the new TLDs one by one over several years reduces the impact compared to what an explosive collective launch would have achieved. While the early movers will have an advantage, the opportunity to build awareness and traction will be greatly reduced.
Read The Domain String Applications
You can read selected articles and excerpts from the new top level domain applications on the linked sample brand pages at left. Or you can access the complete public portions of the domain applications via this official ICANN page.
ICANN has an emphasis on technical stability, financial, security and legal issues. The application questions specifically deal with issues like these in detail as well as other important topics such as consumer trust and choice, protection of geographic names, rights protection and dispute resolution.
TheBrandDomains does not cover these fundamentals in the main. Instead, it has an emphasis on speculation about the implications and possibilities posed by the unprecedented launch of the dot brands on internet communications & commerce. Its focus is on the impact and implications of the brand TLDs on the domain name system, communication and online commerce.
This emphasis is mainly covered by ICANN's Question 18 under the headline: Mission/Purpose:

18(a). Describe the mission/purpose of your proposed gTLD.

18(b). How do you expect that your proposed gTLD will benefit registrants, Internet users, and others?

18(c). What operating rules will you adopt to eliminate or minimize social costs?

TheBrandDomains is examining the applications of some representative corporations in a search for insights into their plans for the new dot brands. Some of the replies are very revealing and shed a great deal of light on their planned innovations and in turn, on the future trajectory of the internet.
Many other, yet to be dreamed of innovations are certain to appear over the next few years. An entirely new class of private, self-contained internet ecosystems with communication and sales platforms combined with social media channels and entertainment will appear.
This will be of interest to the companies that missed the boat.
No timeline has been announced for a second round of applications — though it seems logical that after the current rollout concludes a new round could start — which would likely be in 2016. ICANN is sure to receive a lot of pressure to allow it.
A Distinctive New gTLD Category
The brand domains were not identified as a separate category by ICANN in the new gTLD launch process, and in fact, some of the application questions are irrelevant (for example, questions about domain pricing). However, in the domain industry, and in the wider arena of global commerce in general, the dot brands are certain to be quickly perceived as a separate and distinct domain class.

Although ICANN has not specifically recognized a .BRAND gTLD specification in the current gTLD application round, it is widely anticipated in the brand-owner community that this will become a specialty subset of the gTLDs.

Comcast. Application for .comcast string.
Awareness
It seems highly likely that the general public will quickly become aware of this new category of websites. The marketing power of the dot brands is formidable. Companies like General Electric and Google and Apple and 680 others are clever and influential. They have massive customer bases. For example, McDonald's serves 68 million customers every day. That's 68 million daily opportunities to promote a site like Menu.mcdonalds — at no cost.
Initial media coverage will probably be "FRONT PAGE". The brand domains are likely to be widely accepted and supported.

As it seems there will be many other .BRAND TLDs presented to internet users, it is expected that the outreach, communications and media relating to each of them, individually, will lead to collective benefit insofar as many internet users will quickly grasp the concept behind these TLDs, and will expect many companies to operate them in generally consistent ways.

Honda. Application for the .honda extension.
The potential for the brand domains to play a game-changing, disruptive, perception shattering role in the domain space is great.

Hitachi intends to be the catalyst for a changing society. As society changes, so will Hitachi.

Hitachi. Application for the .hitachi string.

Brief Glossary
ICANN — Internet Corporation for Assigned Names and Numbers
GAC — Government Advisory Committee (of ICANN)
TLD — Top Level Domain
gTLD — Generic Top Level Domain
String — Domain Extension

Notes
Brand names mentioned on this site are registered trademarks or trademarks of their respective corporations. This site claims no association with or endorsement by any of these corporations and their marks are mentioned only to illustrate opinion presented in the public interest.
There are currently many controversies and objections to various domain string applications which are causing delays to various aspects of the program. Hence the precise final number is uncertain.
Up to 100 applications for new city domain strings (like .london) have been made as briefly mentioned above. These are covered on the Generics page.
The challenging launch of more than 1000 new domain strings is being administered by ICANN (Internet Corporation for Assigned Names and Numbers) which acts under the jurisdiction of the US Department of Commerce.
This website has an emphasis on western corporations, in particular English language based companies. IDN domains (internationalized domain names including non-Latin scripts) are not covered by this site. This may be expanded later.
A small number of applications, such as .loreal, have been withdrawn. For up to date info about the status of the brand domains, consult the ICANN site.
For a quick overall perspective on the impending new gTLD domain program, including generic, brand and city domains, visit our sister site DomainNameExplosion.
The list of two-character and country names referred to in many brand applications as the ISO 3166-1 list can be seen at the ISO site.
For a comprehensive overview of the brand domains and their impact on the web, refer to ICANN's website and the individual applications (large parts of which are publicly published).
If you have a particular interest in an individual company, the public aspects of their applications are available for download via the following ICANN links: You can also search a complete list of applicants there.
ICANN list of new TLDs launched to date
IANA combined list of all existing TLDs to date
NOTE: IANA = Internet Assigned Numbers Authority